Search the NCEM archive
Item details
Press Cuttings : 1963 Press Cuttings
Item type:
Press Cuttings
Archive reference:
YMP/F/5
Date/year:
1963
Description:
A small collection of press cuttings about the 1963 Mystery Plays in the Museum Gardens.
Cuttings are catalogued in the NCEM database as F then chronologically so F/5 is 1963.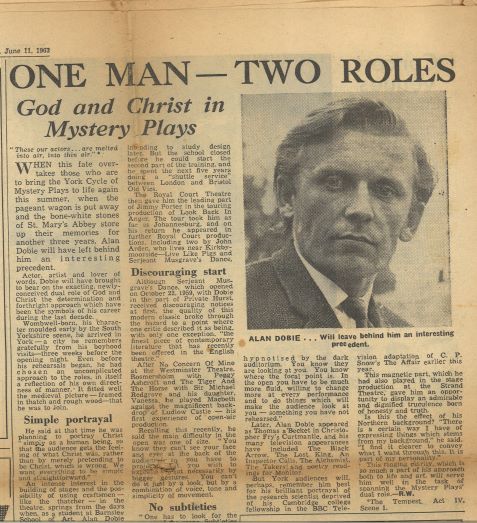 A review by Gareth Lloyd Evans of (?) the
Observer
is headed 'In the Medieval Mood'. He writes: 'A full performance of the 48 York Mystery Plays in 1390 must have been, if nothing else, a triumph of road haulage. Lusty men pulled bedizened wagons from station to station, performing feats of timing and memory to prevent, say, wagon 14 missing a station or worse, arriving there before wagon 7. Brecht could never have stood the strain. William Gaskill's York Festival production of J C Purvis' efficient version of a selection of the Mysteries wisely attempts the medieval spirit rather than the deed. He brings the cycle to rest against the ruined north wall of St Mary's Abbey and gives us Paradise, Hell, Middle and Lower Earth in a symmetrical assembly of platforms and thatched outhouses. Mr Gaskill has been faithful to the medieval in his fashion. True, there is a visually rugged simplicity and something of the naturalistic familiarity of Earth and Heaven of the original in his version. But there is also some compromising modern sophistication. Marc Wilkinson's mood music echoes Lucifer's erotic temptation of Eve with an aptly atonal cha-cha, but at other times it is just moody. The largely amateur company at first gets no nearer conviction than a slightly folksy medievalism - slouching
à la
Breugel. This is intensified by the battering of their teeth against the alliteration. But later, emboldened by the excellent playing and speaking of Alan Dobie (God and Jesus) and Ian McShane (Lucifer) they accept the craggy poetry and act. Suddenly the bunched-up drama in the lines explodes.'
Do you have any photos from 1963? A user of the website recently located this image of Alan Dobie, who played Christ. A donation of a scrapbook contained the image below of the fall of Lucifer.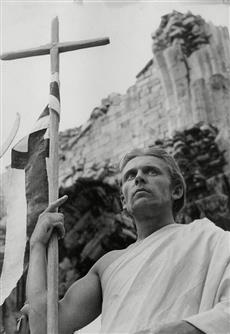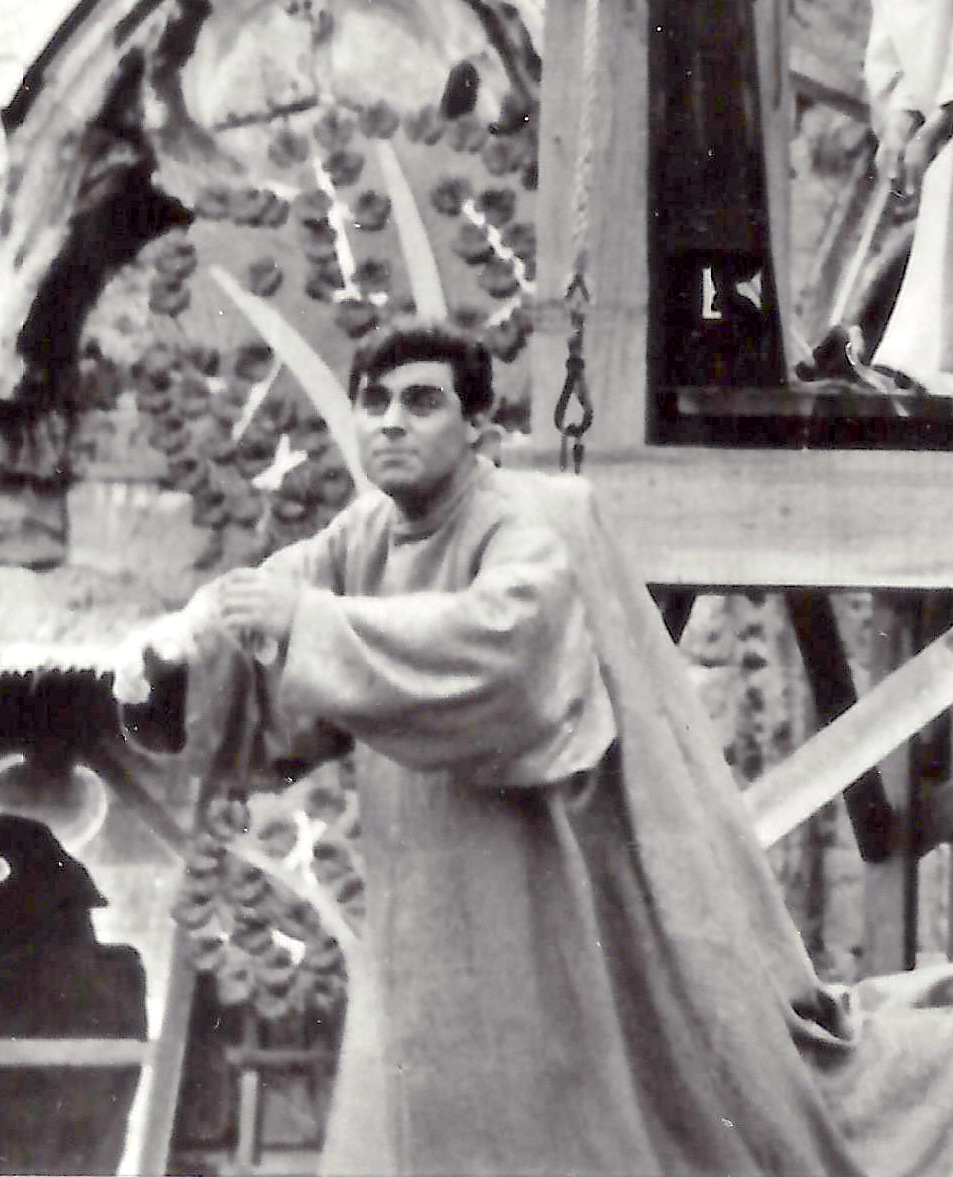 < Go back