Search the NCEM archive
Item details
Delma Tomlin Personal Folder : Dench family involvement in the plays - correspondence
Item type:
Delma Tomlin Personal Folder
Archive reference:
YMP/O/1/12
Date/year:
2002. 1957, 1960
Description:
Now stored as YMP/J/4. Some correspondence between Dr Peter Dench (brother of Judith) and Delma Tomlin MBE, Director of the National Centre for Early Music. Includes a letter from Peter Dench relating to his parents Mrs Olave Dench and Dr Reginald Dench's involvement in the Mystery Plays, acting and running the Wardrobe.
Below are two pictures from 1957, from Eileen Skaife's scrapbook. They show Reginald Dench playing Abraham (with Oswald Heppell as Isaak and Judith Shaw as the angel); and Olave Dench as Wardrobe Mistress with some of the team. The headline refers to the fact that Dr Dench helped by making devils' tails and at the time was acting a bishop's role in the plays. The caption says: "Consulting drawings by Miss Norah Lambourne, the designer, are some of the volunteer seamstresses to whom thanks are due for a great deal of the colour and authentic detail of the York Mystery Plays. This year the costumes are some of the most brilliant ever to have been seen in the city since medieval days. The cast of the plays numbers more than 200, all of whom have to be clothed by these workers behind the scenes. Shown here are (from left) Mrs K Delittle, Mrs M Vaughan-Jones, Mrs M Robinson, Mrs P M Tatton and Mrs Olave Dench (Wardrobe Mistress)." Below is a photograph of Reginald Dench's signature in 1960, embroidered ny actor Mrs Mary Owen onto a tablecloth, donated to the Archive in 2017.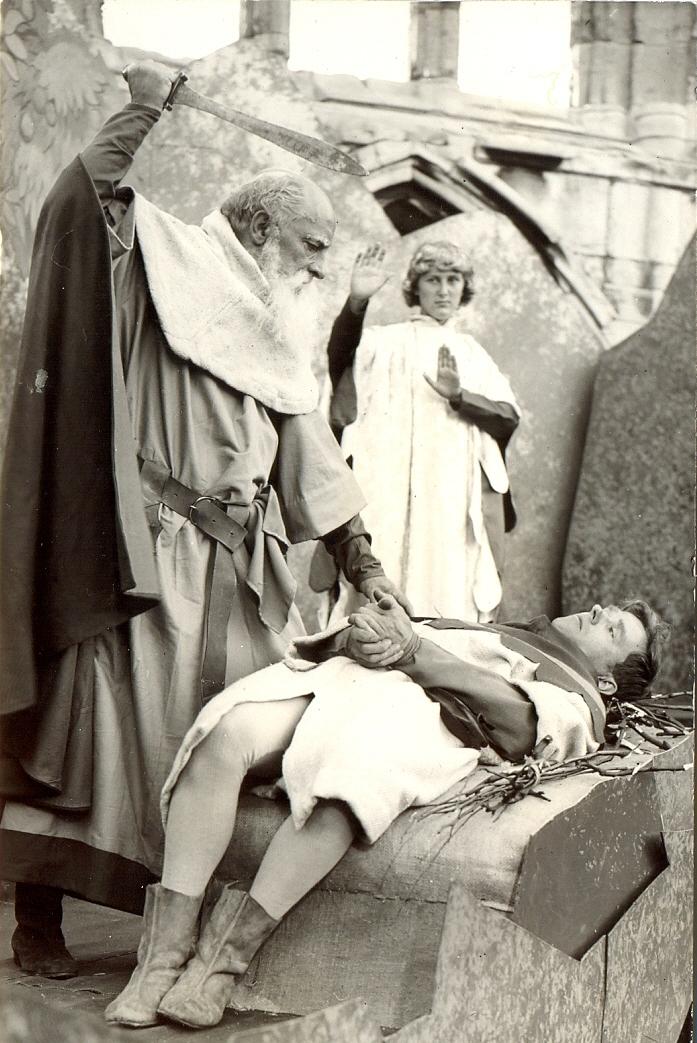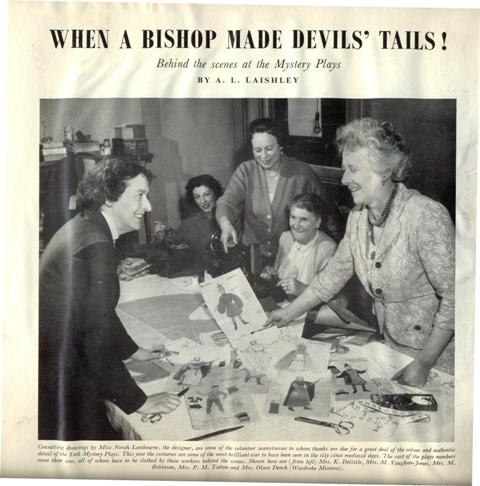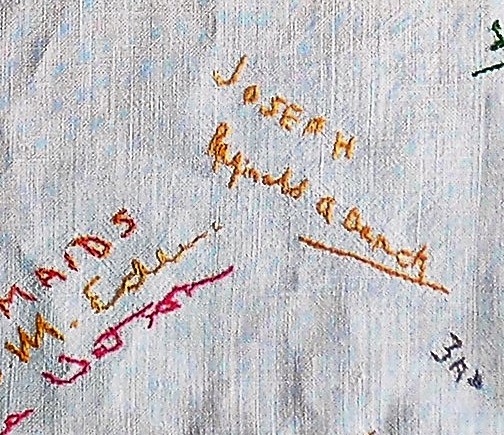 < Go back