Search the NCEM archive
Item details
Delma Tomlin Personal Folder : 2016 Plays
Item type:
Delma Tomlin Personal Folder
Archive reference:
YMP/O/5
Date/year:
2016 etc
Description:
Some very dramatic posters about the 2016 Plays were produced: here is a scanned example, showing Maurice Crichton (Herod).
There were a record 41 performances in the Minster in 2016, including Wednesday and Saturday matinees.
Interviews were recorded for the archive at the NCEM with
Toby Gordon
(Lucifer/Satan) and
Joe Hopper
(Malchus), both of whom are from York and have begun a professional acting career, Toby having trained at LAMDA and Joe at Central School.
Below are some pictures taken in the Minster during the run; visitors were able to tour York Minster as usual to see its wonderful architecture.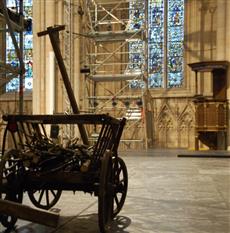 Here is a fight with a devil at the Last Judgement.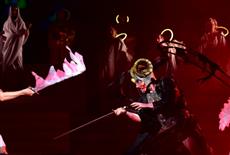 The NCEM website has several pages about the plays.
This page
has links to four interviews by participants.
Over 200 volunteers were "Mystery Makers" in the plays, as well as those formally listed. Among them were four community directors - Tom Straszewski, Sophie Paterson, Dinos Psychogios, Susan Harris. Here is a nostalgic quote from Dinos in January 2023:
"The Community Assistant Directors had different duties depending on their availability etc. We were all assistant directors to Philip [Breen] and Becky [Hope-Palmer] but the community description was added to emphasise that the role was for volunteers from the town or the Univ. Susan for example was doing a lot of chaperoning, Tom was running rehearsals for understudies and Sophie as I recall was both assisting with directing and also stage management. As for me, I was basically assistant to Phil and Becky (when not being the Archangel) which meant taking notes, checking original scriptures to translate from Greek, plan the understudies diagram or even running rehearsals when the directors were absent. The production basically aimed for us to be assistant directors (as Becky was Associate) and we all got different duties depending on our abilities and commitments..... I am creating a portfolio with the shows I have worked as director or assistant director. I am extremely proud of my participation in this event and my theatrical heart is tied to the town of York for ever!"

In June 2023 the
Yorkshire Post
featured the Sovereign Stitchers, a group of volunteers helping York Theatre Royal make costumes for a production of
Sovereign
, a play from the book by C J Sansom about Tudor York. One volunteer is Catherine Sotheran, who first volunteered in 2016 for the Mystery Plays and kept on sewing.
The Archive is delighted to receive photographs or other memorabilia about 2016 - as well as all the productions since 1951.
You can contact the volunteer archivist
here
.
< Go back