Search the NCEM archive
Item details
Delma Tomlin Personal Folder : 2016 Plays
Item type:
Delma Tomlin Personal Folder
Archive reference:
YMP/O/5
Date/year:
2016
Description:
Some very dramatic posters about the 2016 Plays were produced: here is a scanned example, showing Maurice Crichton (Herod).
There were a record 41 performances in the Minster in 2016, including Wednesday and Saturday matinees.
Interviews were recorded for the archive at the NCEM with
Toby Gordon
(Lucifer/Satan) and
Joe Hopper
(Malchus), both of whom are from York and have begun a professional acting career, Toby having trained at LAMDA and Joe at Central School.
Below are some pictures taken in the Minster during the run; visitors were able to tour York Minster as usual to see its wonderful architecture.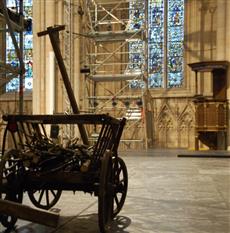 Here is a fight with a devil at the Last Judgement.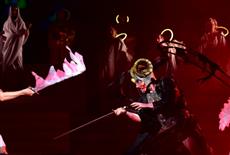 The NCEM website has several pages about the plays.
This page
has links to four interviews by participants.
The Archive is delighted to receive photographs or other memorabilia about 2016 - as well as all the productions since 1951.
You can contact the volunteer archivist
here
.
< Go back