Search the NCEM archive
Item details
Scrapbooks : 1951 Scrapbook with Play memorabilia
Item type:
Scrapbooks
Archive reference:
YMP/E/1
Date/year:
1951
Description:
One of two scrapbooks from the 1951 Mystery Plays production, compiled by Eileen Skaife. Contains press cuttings, letters and invitations. Donated by her to the NCEM, Eileen Skaife performed and was on the wardrobe team. The other scrapbook, archived as YMP/E/2 contains some black and white photographs.
In 1951 the actor who played Jesus was not publicly named, as this was regarded as a very sensitive role to play. He was
Joseph O'Conor
, and also played Jesus in 1954. Many press cuttings casually give the name as 'O'Connor' but his name has
only one N
. This can be confirmed by his signature in a 1954 script - among memorabilia donated to the NCEM. His signature is on page 59 of the script - the Locksmiths' play of Jesus fasting in the desert and tempted by Satan.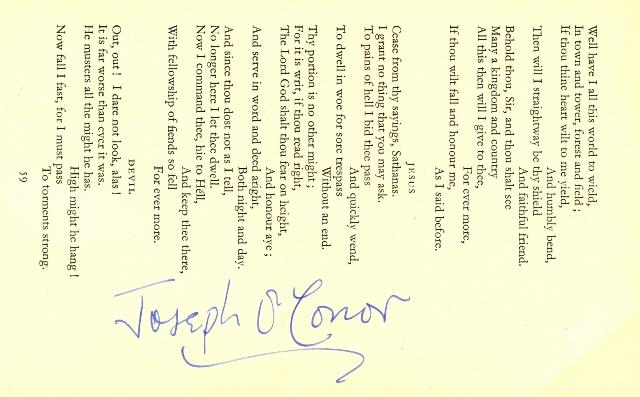 < Go back