Search the NCEM archive
Item details
Photographs : 2006 Wagon Play programme
Item type:
Photographs
Archive reference:
YMP/A/21/6/16
Date/year:
9 and 16 July 2006
Description:
Filed as YMP/B/25, in 2006 the Mystery Plays were performed on wagons. Here is a scan of the cover of the Programme, below are the contents.
Twelve plays performed on 9 and 16 July 2006 in two parts: Part 1 the Fall, Part 2 the Redemption
Pageant Master Dr Mike Tyler
Music Director Paul Toy
Event Manager Ben Pugh
The Barkers' Pageant of the
Fall of the Angels
, Presented by Young York Civic Trust
God:-James Bailey
Seraph-: Nichola Murphy
Cherubim-: Felicity Hearn, Sarah Chalk
Lucifer - Fran Coleman
Second Angel - Megan Heyward, Jo Ellery
Angels - Emily Graham, Sarah Lund, Joanna Wright, Hana Eggleston, Anna Longjaloux-Ball
Director - Paul Toy
Producer - Darrell Buttery
Set Design - Peter Brown
Wagon Team - York Rugby Club
The Plasterer's Pageant of the
Creation of the World to the Fifth Day
, Presented by the Guild of Building
God - Brian Wilson
Angels - Sammi Fletcher, Thomas Gibson, Laura Jackets, Michelle Buckby, Lauryn Redding, Hayley Norris, Adrianna Calvert, Jamie Furby, Anna Wright, Fional Carmouche, Sam McIntyre, Elizabeth Hope
Director - Anthony Ravenhall
Music - Paul Toy Wagon Master Tony Neal
The Coopers Pageant of the
Fall of Man
, with an introduction from the Cardmakers' Pageant of the Creation of Adam and Eve, Presented by York St John University College
God - Philippa Grainger
Angel - Michael White
Adam - Neil Tatersall
Eve - Amy Leach
Satan- Lee Gemmell

Director - David Richmond
Set Designer and Wagon Master - John Merrylees
Costume designer - Chris Lee
The Masons' and Goldsmiths' Pageant of
Herod and the Magi,
Presented by the Company of Merchant Taylors and All Saints' RC School
Herod - Rob Marks
Kings - Nathan Green, Oliver O'Shea, Mathew Freeman, Katy Baskerfield
Herod's Son - Fred Hall
Messenger - Daniel Petrie
Counsellors - Rachel Hoffman, Benedict Rowe
Handmaid - Jenny Beer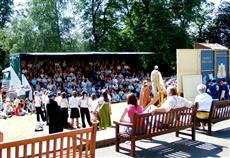 Mary - Katherine King
Angel - Elizabeth Fisher
Joseph - Will Lirkpatrick
Angels - Tom Wright, Catherine Barber, Nathalie Bunney, Chris Whitwood, Rachel Butler
Slave Girls - Michelle Kokayi, Shannon Lewis, Monica Haritakis
Company Pageant Master - Alan Appleby
Director - Mrs Ged Cooper
Musical Director -- Ruth Oxley
Waggon Master - James Baldwin
The Spurriers' and Lorimers' Pageant of
Christ and the Doctors in the Temple
, Presented by the Guild of Scriveners
Jesus - Josh King
Joseph - Tim Hinton
Mary - Lindsay Townsend
First Master - Jean Jesty
Second Master - Adrian Widdowson
Third Master - John Latimer
First doctor - Steven Knowles
Second Doctor - Graeme Robertson
Third Doctor - David Brigham
Pole bearers - Tony Cocker, Jonathan Singleton, Keith Turner
Director - Philip Bowman
Pageant Master - Bill Townsend
Artistic Designer - May Townsend
Choreographer - Trevor Kay
The Smiths' Pageant of the
Temptation of Christ
, Presented by the Gild of Freemen
Devil - Alan Lyons
Jesus - Ben Fogarty
First, second, third angels - Tessa Wilde, Hannah Hume, Carly Dndy
Director - David Wilde
Set Design - Richard Cregan
Pageant team - staff of Nestle UK
The play was presented in memory of Ossie Heppell
The Skinners' Pageant of the
Entry into Jerusalem
, presented by the Parish Church of St Luke
Jesus - Tom Frere
Peter - Martin Davies
Philip - Martin Sheppard
Porter - Dion Smith
Citizens - Aniko Sheppard, Susannah Thorne, Lesley Wilkinson, Steve Benford, Linda Price, Simon Usher, Lynne Comer, Carolin Esser
Blind Man - James Sheppard
Poor Man - Dominic Benford
Lame Man - James Tyler
Zaccheus - Mark Comer
Director - Mark Reilly
Musical Director - Alison Morse, musician Dominic Benford
Set Designer - Mark Comer
Wagon Master - Paul Smith
Costume designer - Lynn Comer
The Pinners and Painters' Pageant of the
Crucifixion
, Presented by the Company of Butchers and the Parish Church of St Chad
Christ - Robert Jeffs
Soldiers 1, 2, 3, 4 - David Hagyard, Chris Hagyard, Jerry Ibbotson, Jamie Searle
Director - SimonTompsett (also soldier)
Wagon master - David Clapham
Costumes - Gill Cooper
The Butchers' Waggon is the first to have been specially built for a Mystery play for perhaps 500 years.
The Saddlers' Pageant of the
Harrowing of Hell
, Presented by the Company of Cordwainers with the choir of the Parish Church of St Olave
Jesus - Kit Bird
Satan - Sam Valentine
Beelzebub - Charles Hunt
Simeon - David Hall
Isaiah - Andrew Waller
King David - Martin Bartlett
John the Baptist - Ged Murray
Michael the Archangel - Lisa Valentine
Moses - Noel Bakes
Adam - Ian Bithell
Eve - Rachel Hollingworth
Ribald - Lesley Dixon
Belial - Pamela Frank
Ball-Berith - Dot Bennett-Pitkin
Astoreth - Angela McMullen
Anaball - Leah Buchanan
Anna - Barbara Revell
Anna's servant - Helen Buchanan
Director - Kathleen Foster
Wardrobe - Angela McMullen
Set Design - James Webster
Waggon master - Chris Foster
Choir Master - John Hastie
The Winedrawer's Pageant of
Christ and Mary Magdalene
with an introduction from the Carpenters' Pageant of the
Resurrection
, Presented by Heslington Church with the church's Korean Choir
Pilate - Lee Maloney
Caiaphas - Robert Cummings
Anna - Chris Rawson
Centurion - Peter Hildebrand
1st, 2nd, 3rd knights - Ian Fowles, Adrian Telfer, Orwell Mushaikwa
Mary Magdalene - Lind Ali
Mary Cleophas - Jacqui Chainey
Mary Salome - Marie Glenton
1st, 2nd angels - Unja Ely, Francesca Sanderson
Angel child - Natasha Sanderson
Director - Lee Maloney
Set Designer - Michael Wall
Wardrobe - Linda Maloney, Margaret Cummings
Wagon Master - Chris Cadman
The Potters' Pageant of the
Descent of the Holy Spirit at Pentecost
, Presented by Pocklington School
Mary - Aimie Neighbour
Peter - Tom Kay
James - Oliver Wride
John - Andrew Pearce
Latin Apostle - Jessica Marshall
Apostles - Stuart Pearce, Tristan Heaven, Ben Chandler, Gina Reay, Olivia Hart, Rosie Bristow, Eve Ashforth, Ben Dawes
Doctors - Sam Cowley, Dan Matthews
Angels - Chloe Johnson, Charles Smith, Claire Eveson
Director - Alan Heaven, Emma Cunningham
Designer - Alan Heaven
Music - Charles Wride
Costumes - Felicity Stephenson
The Mercers' Pageant of the
Last Judgement,
Presented by the Company of Merchant Adventurers with York Settlement Players
God - Ruth Ford, Tim Holman
Jesus - Paul Stonehouse
1st, 2nd, 3rd Angels - Ben Adams, Michael Monaghan, Joni Sufi
1s, 2nd Good Souls - Barbara Miller, Robon Sanger
1st, 2nd Bad Souls - Julia Gregory, Alan Reed
1st , 2nd Apostle - Julie Craggs, Roberto Machado
1st, 2nd, 3rd Devils - Lois Ward, Nigel Adams, Barbara Boyce
Director - Richard Digby Day
Music - Paul Toy
Set Design - Mike Rogers
Costume - Helen Taylor
Wagon Master - Flight Lieutenant Paul Sewart
Wagon Team - 110 and 2487 Squadrons, Air Training Corps
< Go back